Tempest Mk.V Series 1 1/48
Out of stock
---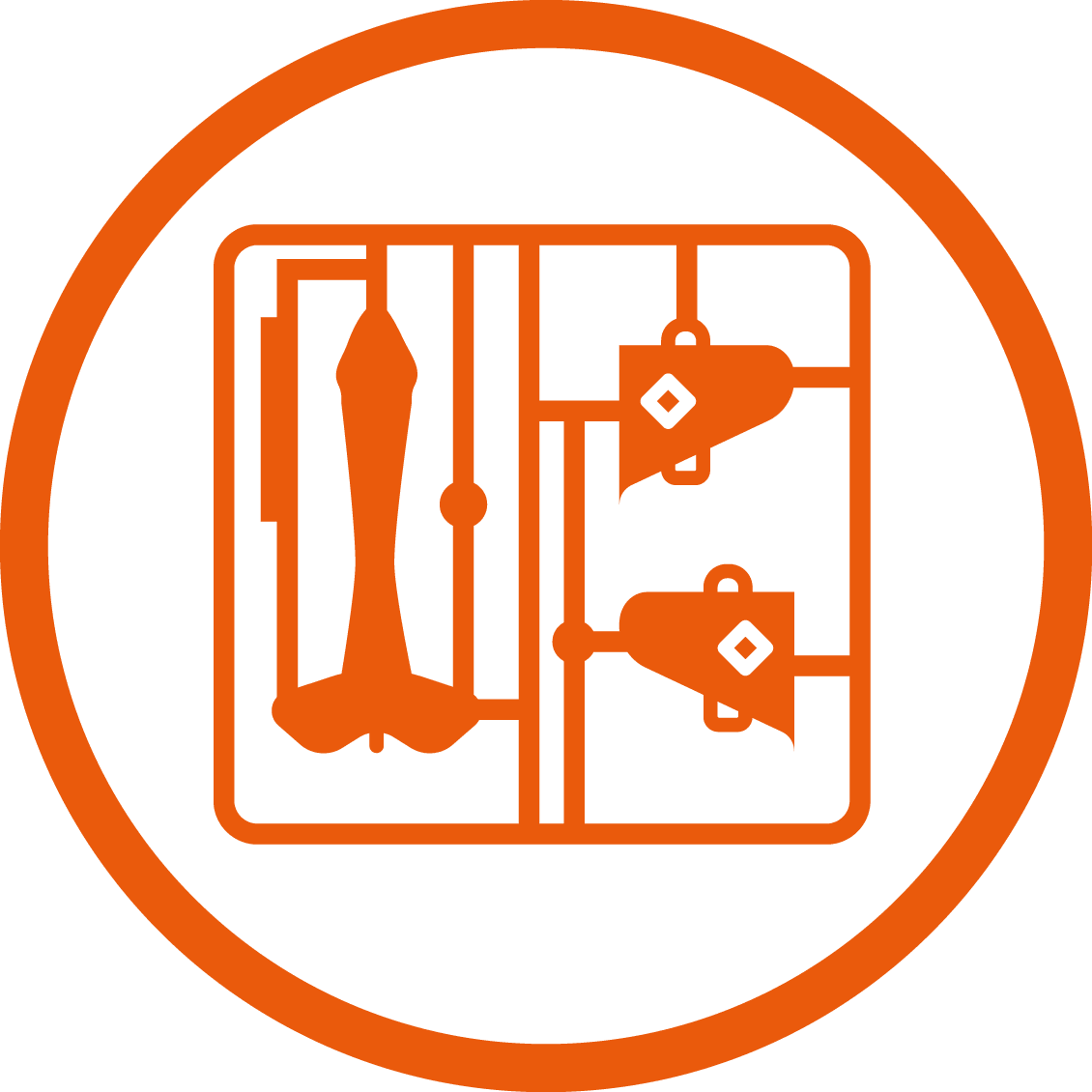 ENGLISH
Weekend edition kit of British WWII fighter aircraft Tempest Mk.V Series 1 in 1/48 scale.
Fokused on machines participated in the Operation Overlord.
plastic parts: Eduard
marking options: 2
decals: Eduard,
PE parts: no,
painting mask: no
Marking options:
A) JN751, W/Cdr Roland P. Beamont DSO, DFC & bar, CO of No. 150 Wing, Newchurch, United Kingdom, June 1944
In May 1944, No. 150 Wing was deemed operational. The Tempest equipped only No. 3 and No. 486 Squadrons, while No. 56 Squadron had to wait for their new Tempests until late June 1944 and used the Spitfire Mk.IX in the interim. The task of the Tempests of No. 150 Wing at the time of the invasion was to provide air cover over the battlefield and attack enemy ground targets but from mid-June, the priority became (as the Tempest was the most suitable aircraft for the task) the protection of southern England from V-1 attacks. At the end of September 1944, the entire unit under the leadership of Beamont moved to liberated Europe. On October 12th, Beamont´s machine was hit by flak and due to a damaged radiator had to put down behind enemy lines and spent the remainder of the war in captivity. Over the course of the Second World War, Beamont claimed nine kills and in July 1944 was awarded a bar to his DSO in recognition of his successful leadership of the Tempest wing which had destroyed more than 600 V-1s (32 by Beamont himself). After the war, he continued on as a test pilot and flew, among others, the Meteor, Vampire, Canberra, Lighting and the TSR-2. He retired in August 1979 and died on November 19th, 2001. Two days before the invasion of Europe, Beamont's aircraft received the prescribed 'Special Markings' – 18-inch wide black and white stripes encircling the rear fuselage and wings.
B) JN765, No. 3 Squadron, Newchurch, United Kingdom, June 1944
No. 3 Squadron was formed in 1912 and at the beginning of the Second World War was equipped with the Hawker Hurricane. As a component of the British Expeditionary Force it fought over Belgium and France. On returning to Great Britain, patrol duties were assigned to the unit over the Royal Navy base at Scape Flow and from April 1941, operated over southern England as a night fighter unit. In February 1943, the unit was re-equipped with the Hawker Typhoon and a year later, the Tempest. With these aircraft, the unit prepared for the invasion of Europe but was held back to defend southern England against the V-1 flying bomb. When the V-1 launch sites were over-run, it was one of the Tempest squadrons transferred to the European mainland to support advancing Allied troops all the way to the end of the war. It remained in Germany until May 1999 as part of the British Air Forces of Occupation (BAFO), 2nd TAF and RAF Germany. At the turn of the century, the unit took part in the bombings of Kosovo, Sierra Leone, Iraq, and in 2004, Afghanistan. In March 2006, the unit received the Eurofighter Typhoon. In early June 1944, No. 3 Squadron's code was changed from QO to JF which was used until August 1945. The socalled 'Invasion Stripes' were also added to aircraft serialed JN765 prior to the operation. Groundcrew painted black the bottom section of the main landing gear cover black, apparently in error.
Intro:
The story of the Tempest is nothing more than an attempt to address the shortcomings of Hawker Typhoon, which prevented it from being a successful fighter. The main problem of the Typhoon was the thick wing with NACA 22 profile, offering lot of inner space for fuel and armament, but building drag rapidly with rising speed. Not surprisingly was the wing at the core of the changes on the way to the new fighter. The resulting design was originally supposed to retain the Typhoon name as the Mark II, but it became obvious, the result would be a new plane, so the name was changed to the Tempest, following the traditional path of Hawker to use the "wind" names for its fighters.
Series of changes
The new wing was 5 in (12,7 cm) thinner at the root and also the planform changed in comparison with Typhoon wing to more elliptical shape. As the new wing did not offer enough space for fuel, additional 76 gal (288 l) fuel tank had to be installed in the fuselage. The space for it was found between the firewall and the oil tank, but, consequently, it was necessary to move the engine forward by 21 in (53,4 cm). Due to that, the tail surfaces, both the stabilizer as well as elevator, had to be enlarged, also the undercarriage was rebuilt. So, yes, it was a new plane, although it kept the Typhoon engine, which was a very complex issue by itself. With quite ambitious goals regarding the performance of Tempest, new units were considered instead of troubled Napier Sabre II powering the Typhoon. But the things went different way…
Back to the roots
Early contract was placed for two prototypes based on the Typhoon airframes powered by Sabre IV, but due to delays, only the HM599 was fitted with it, while HM595 used old Sabre II. The two prototypes also differed in radiator layout as the HM595 retained the distinctive chin radiator of Typhoon, while HM599 undergo radical change as Sydney Camm, Hawker chief designer, wanted to streamline the design. The radiator moved to the leading edge of the inner wing sections on both sides and the sleek nose got some resemblance to the Spitfire. The wing-mounted radiators layout worked well aerodynamically, but the Sabre IV evinced multiple problems and also the complexity of the wing assembly with integrated radiators was of some concern.
There were only two other units powerful enough for use with the Tempest instead of Sabre IV: the R&R Griffon and radial Bristol Centaurus IV. As the new name Tempest was definitely chosen, different marks were assigned to each engine variant and four more prototypes were ordered. The Mk.I was to be powered by the Sabre IV (HM599), the Mk.II by the Centaurus IV (LA602 and LA607), the Mk.III by the R&R Griffon IIB (LA610) and the Mk.IV by the Griffon 61 (LA614). Finally, the Mk.V (HM595) used slightly improved version of the Sabre II (IIB) producing 2,400 hp (1790 kW), thus 200 hp (147 kW) more than previous version. Although it was meant as a stopgap solution until Sabre IV engines would be available, it finally emerged as the main variant of the Tempest, because Centaurus was too late, Sabre Mk.IV still troubled by glitches and integration of the Griffon into the Typhoon airframe proved to be more demanding than expected. So Mk.III ended with first and only prototype, while Mk.IV was never built.
Legend is born
The HM595 prototype with Sabre II flew for the first time on September 2nd, 1942, fitted with car door canopy, as the bubble canopy was in development at the time. Streamlined HM599 with Sabre IV performed its maiden flight on February 24th, 1943. It was reasonably faster than HM595, but the solution of problems would take too much time. The easiest way to get the Tempest into the service was to proceed with Mk.V.
The first production Tempest Mk.V made its maiden flight on June 21st, 1943, already fitted with bubble canopy. Armed with four 20 mm Hispano Mk.II cannon (200 rounds per barrel) achieved a top speed of 432 mph (695 km/h) at 18,400 feet (5,600 m), up to 45 mph (72 km/h) more than Bf 109 of Fw 190 (depending on mark). After the first production batch, the Hispano Mk.V cannons were installed, differentiating it from the first batch by barrels fully covered by the wing. The first squadron to receive Tempests was No. 486 in January 1944. Together with No. 3 Squadron it became operational in April 1944. With addition of No. 56 Squadron the first Tempest Wing was formed at Newchurch, Kent, under the command of W/Cdr Roland Prosper "Bee" Beamont.
Fighting everything
After the period of operations over the France following the D-Day, the Tempest Wing was tasked to fight the V-1 Flying Bombs travelling low at speed of some 400 mph (640 km/h). The Tempest Mk.V was never effective high level fighter due to the nature of its engine, but at the middle and low levels was superior to virtually everything. And some 640 destroyed V-1s during the short period between June and August 1944 speak by themselves, as the rest of RAF scored some 160 of them during the period.
After the V-1 bombing campaign ceased, the Tempest Squadrons returned to the common tasks. At the time, seven Tempest squadrons were flying air-to-air combats and claimed 240 kills (some 20 of them Me 262 jets). Most successful Tempest ace, D. C. Fairbanks (US) recorded 11 kills flying Mk.V "Terror of Rheine". Second with nine kills came W. E. Schrader (NZ) with nine and J. J. Payton with six kills emerged as third overall. The most famous Tempest Pilot the Free French Pierre Clostermann added four kills to his tally of 11 (some sources state 18 kills, the precise number is unknown).
Tempest was formidable fighter, fast, tough, with powerful weapons. Thanks to the excellent low altitude performance, the strafing attacks were also quite common, usually during the "search and destroy" rides. Apart of cannons, the provision of two 1000 lb (450 kg) bombs or eight 60 lb (27 kg) rockets added to the destructive force.
To the end of an era
Two more variants of the Tempest would enter production later on, but both were too late to see WW II service. The Tempest Mk.II powered by the Centaurus V used some experience gained by examining the engine cowling of captured Fw 190s. The Tempest VI used the Sabre V engine, and was used only by five RAF squadrons based in the Middle East. Of the Tempest Mk.V 1,401 were produced. After the war Tempest V continued in service with British Air Force of Occupation (BAFO) squadrons until replaced by Tempest Mk.II.
ESPAÑOL
Kit de edición de fin de semana del avión de combate británico de la Segunda Guerra Mundial Tempest Mk.V Series 1 en escala 1/48.
Fokused en máquinas participó en la Operación Overlord.
piezas de plástico: Eduard
opciones de marcado: 2
calcomanías: Eduard,
Piezas de PE: no,
máscara de pintura: no
Opciones de marcado:
A) JN751, W / Cdr Roland P. Beamont DSO, DFC & bar, CO of No. 150 Wing, Newchurch, Reino Unido, junio de 1944
En mayo de 1944, el Ala No. 150 fue considerada operativa. La Tempestad equipaba solo los Escuadrones No. 3 y No. 486, mientras que el Escuadrón No. 56 tuvo que esperar sus nuevas Tempestad hasta fines de junio de 1944 y usó el Spitfire Mk.IX en el ínterin. La tarea de las Tempestades del Ala No. 150 en el momento de la invasión era proporcionar cobertura aérea sobre el campo de batalla y atacar objetivos terrestres enemigos, pero desde mediados de junio, la prioridad se convirtió (ya que la Tempestad era el avión más adecuado para la tarea ) la protección del sur de Inglaterra de los ataques V-1. A finales de septiembre de 1944, toda la unidad bajo el liderazgo de Beamont se trasladó a la Europa liberada. El 12 de octubre, la máquina de Beamont fue alcanzada por el fuego antiaéreo y debido a un radiador dañado tuvo que soltarse detrás de las líneas enemigas y pasó el resto de la guerra en cautiverio. En el transcurso de la Segunda Guerra Mundial, Beamont reclamó nueve asesinatos y en julio de 1944 se le otorgó una barra a su DSO en reconocimiento a su exitoso liderazgo del ala Tempestad que había destruido más de 600 V-1 (32 por el propio Beamont). Después de la guerra, continuó como piloto de pruebas y voló, entre otros, el Meteor, Vampire, Canberra, Lighting y el TSR-2. Se retiró en agosto de 1979 y murió el 19 de noviembre de 2001. Dos días antes de la invasión de Europa, el avión de Beamont recibió las "Marcas Especiales" prescritas: rayas blancas y negras de 18 pulgadas de ancho que rodeaban el fuselaje y las alas traseras.
B) JN765, Escuadrón No. 3, Newchurch, Reino Unido, junio de 1944
El Escuadrón No. 3 se formó en 1912 y al comienzo de la Segunda Guerra Mundial estaba equipado con el Huracán Hawker. Como componente de la Fuerza Expedicionaria Británica, luchó por Bélgica y Francia. Al regresar a Gran Bretaña, se asignaron tareas de patrulla a la unidad sobre la base de la Royal Navy en Scape Flow y, desde abril de 1941, operaron sobre el sur de Inglaterra como una unidad de caza nocturna. En febrero de 1943, la unidad fue reequipada con el Hawker Typhoon y un año después, la Tempest. Con estos aviones, la unidad se preparó para la invasión de Europa, pero se detuvo para defender el sur de Inglaterra contra la bomba voladora V-1. Cuando los sitios de lanzamiento de V-1 se desbordaron, fue uno de los escuadrones de Tempestad transferidos al continente europeo para apoyar el avance de las tropas aliadas hasta el final de la guerra. Permaneció en Alemania hasta mayo de 1999 como parte de las Fuerzas Aéreas Británicas de Ocupación (BAFO), 2º TAF y RAF Alemania. A principios de siglo, la unidad participó en los bombardeos de Kosovo, Sierra Leona, Irak y, en 2004, Afganistán. En marzo de 2006, la unidad recibió el Eurofighter Typhoon. A principios de junio de 1944, el código del Escuadrón No. 3 se cambió de QO a JF, que se usó hasta agosto de 1945. Las llamadas "rayas de invasión" también se agregaron a los aviones serialed JN765 antes de la operación. Groundcrew pintó de negro la sección inferior de la cubierta del tren de aterrizaje principal en negro, aparentemente por error.
Introducción:
La historia de la Tempestad no es más que un intento de abordar las deficiencias de Hawker Typhoon, que le impidió ser un luchador exitoso. El principal problema del Typhoon era el ala gruesa con perfil NACA 22, que ofrecía mucho espacio interior para combustible y armamento, pero generaba resistencia rápidamente con el aumento de la velocidad. No es sorprendente que el ala estuviera en el centro de los cambios en el camino hacia el nuevo luchador. Originalmente se suponía que el diseño resultante retendría el nombre de Typhoon como Mark II, pero se hizo evidente, el resultado sería un nuevo avión, por lo que el nombre se cambió a Tempest, siguiendo el camino tradicional de Hawker para usar el "viento". nombres para sus luchadores.
Serie de cambios
El ala nueva era 5 pulgadas (12,7 cm) más delgada en la raíz y también la forma del plano cambió en comparación con el ala Typhoon a una forma más elíptica. Como la nueva ala no ofrecía suficiente espacio para combustible, se tuvo que instalar un tanque de combustible adicional de 76 galones (288 l) en el fuselaje. El espacio para ello se encontró entre el cortafuegos y el tanque de aceite, pero, en consecuencia, fue necesario mover el motor hacia adelante en 21 pulgadas (53,4 cm). Debido a eso, las superficies de la cola, tanto el estabilizador como el elevador, tuvieron que ampliarse, también se reconstruyó el tren de aterrizaje. Entonces, sí, era un avión nuevo, aunque conservaba el motor Typhoon, que era un problema muy complejo en sí mismo. Con objetivos bastante ambiciosos con respecto al rendimiento de Tempest, se consideraron nuevas unidades en lugar de la problemática Napier Saber II que impulsa el Typhoon. Pero las cosas salieron de otra manera …
De vuelta a las raíces
El contrato inicial se colocó para dos prototipos basados ​​en los aviones Typhoon impulsados ​​por Sabre IV, pero debido a retrasos, solo se instaló el HM599, mientras que el HM595 usó el antiguo Sabre II. Los dos prototipos también diferían en el diseño del radiador, ya que el HM595 retuvo el distintivo radiador de mentón de Typhoon, mientras que el HM599 sufrió un cambio radical a medida que Sydney Camm, el diseñador jefe de Hawker, quería racionalizar el diseño. El radiador se movió hacia el borde delantero de las secciones internas del ala en ambos lados y la elegante nariz se parecía un poco al Spitfire. El diseño de los radiadores montados en las alas funcionó bien aerodinámicamente, pero el Sabre IV mostró múltiples problemas y también la complejidad del ensamblaje del ala con radiadores integrados fue motivo de preocupación.
Solo había otras dos unidades lo suficientemente potentes para usar con la Tempestad en lugar de Sabre IV: el R&R Griffon y el radial Centaurus IV de Bristol. Como se eligió definitivamente el nuevo nombre Tempest, se asignaron diferentes marcas a cada variante del motor y se ordenaron cuatro prototipos más. El Mk.I debía ser impulsado por el Sabre IV (HM599), el Mk.II por el Centaurus IV (LA602 y LA607), el Mk.III por el R&R Griffon IIB (LA610) y el Mk.IV por el Griffon 61 (LA614). Finalmente, el Mk.V (HM595) usó una versión ligeramente mejorada del Sabre II (IIB) que produce 2,400 hp (1790 kW), por lo tanto 200 hp (147 kW) más que la versión anterior. Aunque se pensó como una solución provisional hasta que los motores Sabre IV estuvieran disponibles, finalmente surgió como la variante principal de la Tempestad, porque Centaurus era demasiado tarde, Saber Mk.IV todavía estaba preocupado por fallas e integración del Griffon en la estructura del tifón. resultó ser más exigente de lo esperado. Así que Mk.III terminó con el primer y único prototipo, mientras que Mk.IV nunca se construyó.
La leyenda nace
El prototipo HM595 con Sabre II voló por primera vez el 2 de septiembre de 1942, equipado con el dosel de la puerta del automóvil, ya que el dosel de burbujas estaba en desarrollo en ese momento. El HM599 aerodinámico con Sabre IV realizó su primer vuelo el 24 de febrero de 1943. Era razonablemente más rápido que el HM595, pero la solución de los problemas tomaría demasiado tiempo. La forma más fácil de llevar la Tempestad al servicio era proceder con Mk.V.
La primera producción de Tempest Mk.V realizó su primer vuelo el 21 de junio de 1943, ya equipado con un dosel de burbujas. Armado con cuatro cañones Hispano Mk.II de 20 mm (200 balas por barril) alcanzó una velocidad máxima de 432 mph (695 km / h) a 18,400 pies (5,600 m), hasta 45 mph (72 km / h) más que Bf 109 de Fw 190 (dependiendo de la marca). Después del primer lote de producción, se instalaron los cañones Hispano Mk.V, diferenciándolo del primer lote por barriles completamente cubiertos por el ala. El primer escuadrón en recibir Tempestad fue el No. 486 en enero de 1944. Junto con el Escuadrón No. 3 entró en funcionamiento en abril de 1944. Con la adición del Escuadrón No. 56, se formó el primer Ala de la Tempestad en Newchurch, Kent, bajo el mando de W / Cdr Roland Prosper "Bee" Beamont.
Luchando contra todo
Después del período de operaciones en Francia después del Día D, el Ala de la Tempestad se encargó de luchar contra las Bombas Voladoras V-1 que viajan a baja velocidad a unas 400 mph (640 km / h). El Tempest Mk.V nunca fue un caza de alto nivel efectivo debido a la naturaleza de su motor, pero en los niveles medio y bajo fue superior a prácticamente todo. Y unos 640 V-1 destruidos durante el corto período entre junio y agosto de 1944 hablan por sí mismos, ya que el resto de la RAF anotó unos 160 de ellos durante el período.
Después de que cesó la campaña de bombardeos V-1, los Escuadrones de la Tempestad volvieron a las tareas comunes. En ese momento, siete escuadrones de Tempest estaban volando combates aire-aire y reclamaron 240 asesinatos (unos 20 de ellos aviones Me 262). El as de Tempest más exitoso, D. C. Fairbanks (EE. UU.) Registró 11 asesinatos volando Mk.V "Terror of Rheine". En segundo lugar con nueve asesinatos llegaron W. E. Schrader (NZ) con nueve y J. J. Payton con seis asesinatos emergieron como terceros en la general. El piloto de tempestad más famoso, el francés libre Pierre Clostermann, agregó cuatro asesinatos a su cuenta de 11 (algunas fuentes indican 18 asesinatos, se desconoce el número exacto).
Tempest era un luchador formidable, rápido, duro, con armas poderosas. Gracias al excelente rendimiento a baja altitud, los ataques de estrangulamiento también fueron bastante comunes, generalmente durante los viajes de "buscar y destruir". Además de los cañones, la provisión de dos bombas de 1000 lb (450 kg) u ocho cohetes de 60 lb (27 kg) se sumaron a la fuerza destructiva.
Hasta el final de una era
Dos variantes más de Tempest entrarían en producción más adelante, pero ambas llegaron demasiado tarde para ver el servicio de la Segunda Guerra Mundial. El Tempest Mk.II impulsado por el Centaurus V utilizó algo de experiencia obtenida al examinar el capó del motor de los Fw 190 capturados. El Tempest VI usó el motor Sabre V, y solo lo usaron cinco escuadrones de la RAF con base en el Medio Oriente. De la tempestad Mk.V se produjeron 1.401. Después de la guerra, Tempest V continuó en servicio con los escuadrones de la Fuerza Aérea de Ocupación Británica (BAFO) hasta ser reemplazado por Tempest Mk.II.
---
| | |
| --- | --- |
| Weight | 0.4 kg |
| Dimensions | 30 x 20 x 10 cm |
| Army | UK |
Custom Tab Content here.
Tail sed sausage magna quis commodo swine. Aliquip strip steak esse ex in ham hock fugiat in. Labore velit pork belly eiusmod ut shank doner capicola consectetur landjaeger fugiat excepteur short loin. Pork belly laboris mollit in leberkas qui. Pariatur swine aliqua pork chop venison veniam. Venison sed cow short loin bresaola shoulder cupidatat capicola drumstick dolore magna shankle.